Make your life more stress-free with our Flame Aroma Diffuser Air Humidifier!

Our beautiful and effective Ultrasonic Flame Aroma Diffuser will surely help you de-stress after a long day, or even when you simply need some peace and quiet to decompress.

Want to mesmerize your guests with flames safely inside the house? You don't have to light up the fireplace. Instead, you can use this flame humidifier to wow them and provide aromatherapy to everyone too!

The fog with the flame-color light perfectly imitates an actual fire which livens up your home décor. You can create a warm and romantic vibe, and with its adjustable brightness mode, you can opt between soft and blazing flames.

Place your hand over the mist, and it will look like you are touching the flames, but safely, without getting burned.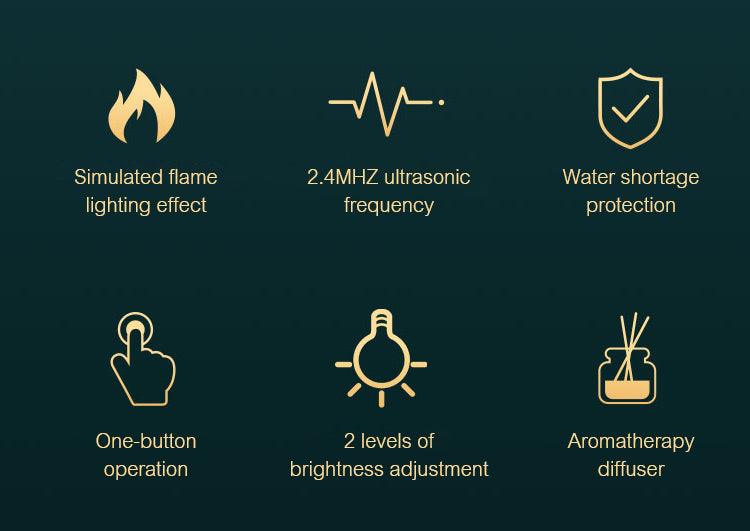 Lighting Function - Short-press the switch button to turn on the orange light. Press and hold the switch button again for two seconds to switch to the blue light. Press and hold the switch button again for two seconds to turn off the light.

Aromatherapy Function - Add water into the water tank (not exceeding the water level line), add an appropriate amount of essential oil, and briefly press the atomization switch button to turn on aromatherapy atomization; Short-press again to stop atomization.

Protection Function - The built-in water shortage protection chip automatically turns off the device after detecting no water.

Timing Function - When the light is blue, long-press the switch button again for two seconds to turn on the timing function. This operation can be repeated continuously as needed to switch the timing amount and color.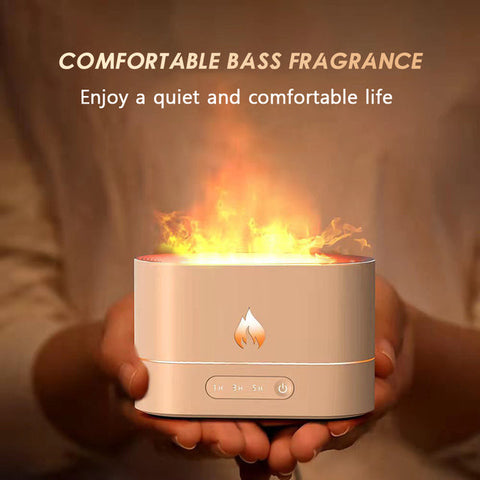 Specifications
Water-shortage Auto Power-off Protection: 

Yes

Voltage (V): 

5V

Type: 

Ultrasonic Humidifier

Power Type: 

USB 5V2A

Power (W): 

5w

Noise: 

<36db

Mist Outlet Quantity: 

One

Material: 

Plastic

Humidity Control: 

Touch Control

Humidifying Capacity: 

30ml/h

Humidification Method: 

Mist Discharge

Flame Colors: Purple, Blue, Orange
Function: 

Aromatherapy

Certification: 

ROHS,CE

Water Capacity: 180 - 20

0 ml

Application: 

11-20㎡

Usage: 9 -12 hours
Mist Type: Cool Mist
Package includes:
1 x Flame Aroma Diffuser
1 x USB Cable
1 x Instructions
Estimated Delivery: 7 Days.
Easy 14-Day Returns.